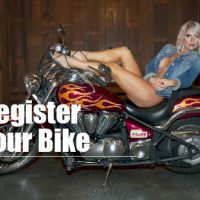 104.7 The Cave is gearing up for another Cave Babe Bike Calendar for 2018 and we want your bike in it!
Submit a photo of your bike below (must be an actual motorcycle). *You have UNTIL 11:59pm on May 28th to submit your bike
*Voting will start on May 29th!
*Top 11 bikes with the most votes will be in our 2019 Cave Babe Bike Calendar!
————–
Enter your Bike here:
————–
Please take a moment to read the Contest Rules
Cave Babe Bike Calendar Bike Submissions
104.7 The Cave will be conducting the "Cave Babe Bike Calendar Bike Submissions" promotion from 5/12-5/28. Eleven winners from 104.7 The Cave will be selected through voting on www.1047thecave.com. The prize is as follows:
Inclusion in the 2019-2020 Cave Babe Bike Calendar
Total Prize Value: $10,000
1. How to enter:
1. Participants and winners of this contest must be legal U.S. residents of at least 21 years of age, residing inside the Springfield designated market area.
2. Limited to one entry per person.
3. 10 votes per IP address per day.
4. If your bike was in the Cave Babe Bike Calendar last year (2018/2019), you are not eligible to win or re-enter this year with the same bike.
3. Participants can enter the contest:
By going to the submission page at www.1047thecave.com
2. Giveaway:
1. Winners (12) will be selected on 6/11.
2. Winner(s) will be selected through voting on www.1047thecave.com.
a. Winner(s) If you win the contest, you will be required to travel with your bike to the photo shoot locations picked by The Cave staff.
b. The Cave reserves the right to break ties and disqualify bikes.
3. Contesting. During any contest involving communication through the telephone lines, should a contestant be disconnected from the utilized phone line before the contestant's correct name, phone number, and response are recorded; they will be instantly disqualified from the contest without compensation. The following sequential caller shall be given the opportunity to win. Midwest Family Broadcasting is not responsible for problems occurring within the telephone system, which either inhibit or increase the chances of winning. Time delay between over the air analog signal and the internet broadcast: Due to the time delay that exists between the station's analog over the air signal and the station's online webcast, listeners who listen to the Station online may hear the cue later then the listeners listening to the Station's analog over the air signal. As a result, the odds of an online listener winning this contest may be diminished.
4. Employees of Midwest Family Broadcasting (hereafter referred to as "the company") this contest's participating sponsors and their advertising agencies, employees of other radio or television stations, and members of the immediate family of any such persons are not eligible to participate and win. The term "immediate family" includes spouses, siblings, parents, children, grandparents, and grandchildren, whether as "in-laws," or by current or past marriage(s), remarriage(s), adoption, co-habitation or other family extension, and any other persons residing at the same household whether or not related.
5. Publicity. By participating, all participants and winner(s) grant the Company exclusive permission to use their names, characters, photographs, voices, and likenesses in connection with promotion of this and other contests and waive any claims to royalty, right, or remuneration for such use.
6. Release. By participating, each participant and winner waives any and all claims of liability against the Company, its employees and agents, for any personal injury or loss, which may occur from the conduct of, or participation in, the contest, or from the use of any prize.
7. Taxes. Any valuation of the prize(s) stated above is based on available information provided to the Company, and the value of any prize awarded to a winner may be reported for tax purposes as required by law. Each winner is solely responsible for reporting and paying any and all applicable taxes. Each winner must provide the Company with valid identification and a valid taxpayer identification number or social security number before any prize will be awarded. Prizes are not transferable or redeemable for cash. Any person winning over $600 in prizes from a Station will receive an IRS form 1099 at the end of the calendar year and a copy of such form will be filed with the IRS.
8. Decisions. The Company reserves the right to disqualify any participant or winner and may refuse to award any prize to a person who is ineligible or has violated any rule, gained unfair advantage in participating in the contest, or obtained winner status using fraudulent means. Further, the Company will resolve any disputes, conflicting claims or ambiguities concerning the rules and the Company's decisions concerning such disputes shall be final. All decisions will be made by the Company and are final. The Company may waive any of these rules in its sole discretion.
9. Midwest Family Broadcasting reserves the right to add, delete and/or alter rules at any time and Media reserves the right to cancel any contest at any time.
By participating in this contest participant is agreeing to adhere to the above mentioned rules and regulations.