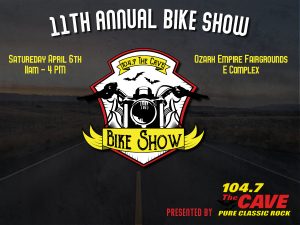 Join 104.7 The Cave for their 11th Annual Bike Show on April 6th from 11a-4p at The Ozark Empire Fairgrounds. Admission is $10 per person or $5 with the Cave Club Coupon Code!!!
Bike Registration
Register your bike(s) today for $20 – Day of event registration is $30 (plus taxes and fees) at the door. Cash & Trophy Prices Include: 1st ($300), 2nd ($100), and 3rd ($50) Best In Show/Judges Choice and Best In Show/People's Choice (Winners of Judges Choice will be removed from Peoples Choice). When registering your bike, you must Find Tickets first, then select "Bike Registration" and quantity. When done, click ADD TO CART, and you will then be able to register your bike. After taxes and fees, total cost will be $22.
CAVE CLUB MEMBERS PRESALE
All Cave Club Members and Bike Club Members get early access to buy tickets to the 2019 Bike Show for only $5! Members, click here:
Not a Cave Club Member, join now.
All NEW!!!  Custom Car Corner (very limited space)
This year we will have the ALL new Custom Car Corner!!  Registration is $20 for early birds and $30 day of show.  Taxes and Fees apply.  Space is VERY limited.  We know you're just as proud of your ride as you are your bike.  Show it off!  Best of Show/People's Choice wins a trophy and $100!!
Judged classes:
Custom
Production Custom
Modified Touring
Touring
Metric
Trike
Vintage (1969 or older)
Sport
Sportster
Softail
Dyna
RAT
Bike Giveaway
The day has finally come…we will draw a winner and one lucky person gets to take home the 2019 Cave Custom Bike!!
FAQs/RULES
Bike Show Rules Please see Entry Form for additional rules
1. All space must be paid for in FULL prior to the first day of the event.
2. All bike show contracts must be completely filled out and signed (at time of drop off).
3. You must provide your own display. Each bike show participant is responsible to secure his/her own space and contents from theft and/or damage.
4. This is a family-oriented event, please do NOT display offensive material. If its questionable put a cloth over it and show it only when minors are not present.
5. Show bikes must have less than 1/4 tank of fuel (2 gallons) or you will be asked to leave by the fire marshal.
6. No running of motorcycles in any buildings. Engines CAN NOT be started indoors!
7. No Smoking in any indoor area of the Event Venue.
8. No Refunds.
9. Setup day and times must be adhered to, no bikes moved in or out during show hours.
10. Two (2) Bike Show passes will be provided to competitor during setup.
11. No selling of products from display space unless you are paying for Vendor Space. Business cards and flyers discreetly presented are allowed.
12. All applicants agree to have bikes on display all hours of the show until completion of the show Saturday night after 5 p.m. No bike shall be moved during show hours without the permission of show management.