104.7 The Cave is your home for the Kansas City Chiefs!
* Due to NFL rules we are unable to stream the games so make sure to listen to a radio while we are broadcasting! *
CLICK HERE for the Season Schedule
 THIS WEEK IN CHIEFS FOOTBALL PODCAST
Check out the Minute with Mitch every Tuesday at 8:45 am on Mike The Intern's Show
Make sure and listen to the Keys to the Kingdom every weekday at 7:20am with Mike The Intern. He will share his views on everything from players, coaches, games, play by plays, and more!
Join your home for the Kansas City Chiefs, 104.7 The Cave for the Chiefs Kingdom show the day after every Chiefs Regular Season Game at 7pm! The Voice of the Chiefs, Mitch Holthus will highlight game elements and interview players and coaches!
Podcasts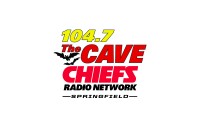 Mike shares an interview with Kendall Fuller!