Looking for a way to beat the heat this summer? AMC Theatres is bringing back its $5 Discount Tuesdays.
Tickets are available every Tuesday for members of the AMC Stubs loyalty program, which is free to join.
AMC is also offering popcorn and drink specials during its discount promotion. Discount Tuesdays run through the end of October.
Click the link below for more details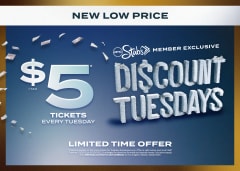 Discount Tuesdays
Save on tickets and more on Tuesdays! It's just a weekly reminder of the many perks of being an AMC Stubs member!
Read More
www.amctheatres.com